As Valentine's Day approaches our thoughts turn to romance and love, but many of us are tired of the same old love. This is evident by the astronomical success of the Fifty Shades of Grey books. The saga of Christian Grey and Anastasia Steele has captivated women and men across the world. While some of us aren't bold enough to have sex in an elevator, we wouldn't mind indulging in a few new erotic pleasures.
But, how would one go about finding their own fifty shades of grey?
Here in our West Palm Beach store we carry the Official Fifty Shades of Grey Pleasure Collection of adult sex toys and enhancements based on the ones used by Christian and Anastasia in the book series and approved by E.L. James. This collection contains everything you need to start your journey of exploration.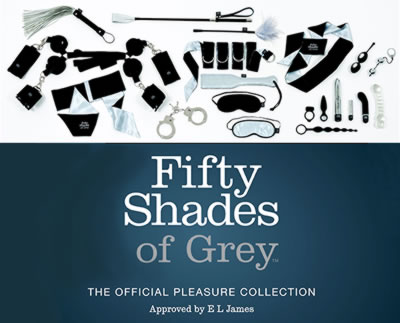 So maybe you're new to the idea of going beyond vanilla sex, or even a little scared of where this journey will take you; then perhaps start slowly with a little light bedroom bondage using silky satin wrist restraints the way Christian bound Anastasia, securing her under his control. Maybe even try a soft blindfold to heighten the sense of touch and the excitement.
Once you feel comfortable with that, try adding some gentle discipline with the sweet sting of a riding crop or flogger, yes please. Afterwards be sure to follow up by massaging after spanking cream on your partners tender tushy to relax and soothe the skin; a little punishment and then a pleasurable reward.
If these activities excite and arouse you, move on to more daring ideas; the delicious mix of pleasure and pain created by the pinch of adjustable nipple clamps may take your excitement to even higher levels.
Feel like going farther? Go ahead, it's your journey. Whatever feels right, is right. Be adventurous, explore new territory with a tantalizing butt plug, or reach new depths of pleasure with anal beads. They will stimulate one of your most pleasurable areas with intense results. As Christian declared: "They have quite an effect if you pull them out mid-orgasm". But, make sure everything goes smoothly with plenty of lube. Premium water based lubricants are safe for all your new toys. With enough imagination and lube the erotic possibilities are endless.
Don't be limited by location. Find stimulation beyond the bedroom with the discrete Fifty Shades of Grey pleasure balls. The movement of these weighted balls massages you internally creating an exquisite sensation that will leave you more than ready for sexual play time when you get home. Only you will know the reason behind your sensuous smile.
The official Fifty Shades of Grey Pleasure Collection consists of these and many more premium adult toys and enhancement products based on the erotic novels. There's something for the Christian or Anastasia in each of us that will satisfy your sexual desires this Valentine's Day and beyond.
Find your way to After Midnight Lingerie & Video to start your erotic story.