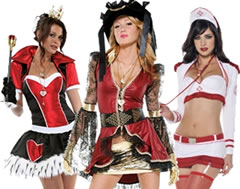 Call 561-682-1002 for directions to the store.
Our sexy costumes have arrived! We have some new brands this year that some of the other stores don't carry, so you'll want to make sure you check us out. We have sexy costumes for ladies in almost every imaginable category.
Sexy Cops, Nurses, French Maids, Mermaids, Sailor Girls, Pirates, Racer Girls, Girl/Camp Scout Costumes, Witches, Wizards, Indians, Flappers, and sooooooo many more.
We carry clothing quality costumes that you will feel proud to wear and super sexy in. Pick a few out and try them on in our new larger dressing rooms. Then you can come out to show your friends and check out the back in our 3-way mirror.
We have even nicer costumes this year, and quite a few even come in a complementary garment bag so that you can keep you costume nice all year long.
Our helpful friendly staff is always here to help you pick out the perfect costume and to help you accessorize. With our new tutus and petticoats, gloves, stockings, and other fun themed accessories, you are sure too look your hottest and turn heads.
We are still only carrying costumes for ladies, so no child costumes, and only a few for the men.
Stop by today and check it all out!