Have you ever gone to a costume party and 3 girls have your exact Halloween costume? or have you ever kept trying on costume after costume and can't find one that fits you all over. Why not make your own sexy costume this year with separates from After Midnight?
We've gone all out this year to find the sexiest and coolest costume separates. We have all kinds of cool stuff, from body suits to make a cat woman costume to corsets, tutus, hats and more. With even a little imagination, we can help you create a one of a kind costume. Instead of buying a costume where someone else picked out all the stuff, create your own, so that it is sure to fit great, be unique, and express your personal style.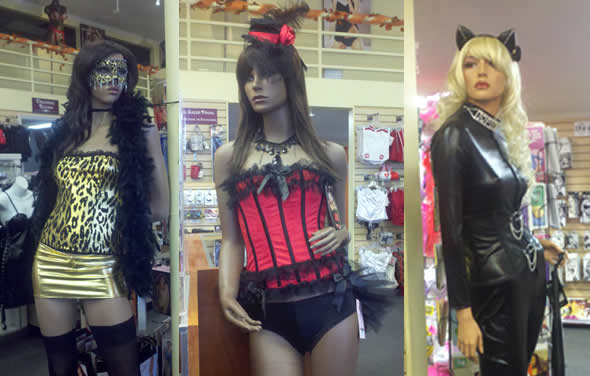 Staff creations: These costumes are all ideas for sexy costumes put together with separate pieces and accessories by our staff.
We have both theme corsets like nurse, police, lady bug, bee, etc. and traditional corsets which range from plain to burlesque. Match them up with themed skirts, shorts, and lots of Halloween costume accessories. We have everything you need to create your one-of-a-kind costume from gloves, hosiery, tutus, petticoats, garter belts, eyelashes, wings, hats, wigs and more.
Check out some of our corsets and Halloween costume accessories on the wall.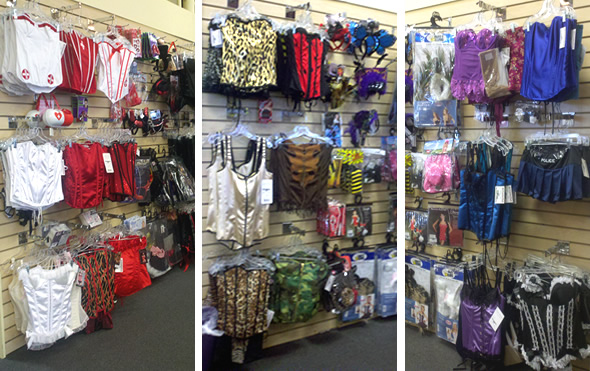 Check out some of our wings, tutus, and hosiery.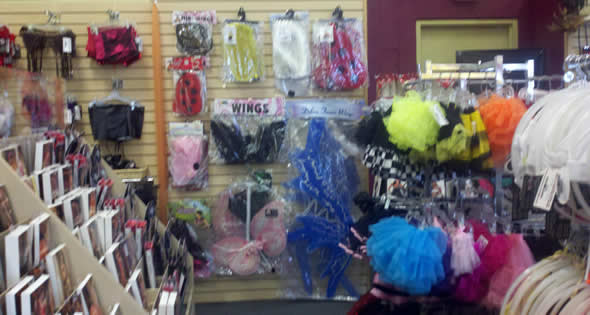 So, to get a custom look that is uniquely yours, and to get away from the pre-bagged costumes that you find all over town, come on in today. We'll help you find just what you need to stand out from the crowd!