Sometimes it's hard to pick just the right sexy lingerie to make your night extra special, and tell him you want him. While just getting naked might certainly work, sexy lingerie sends a much clearer message that you are in the mood. After all, you could just happen to be naked. When you take the time to put on that extra naughty lingerie, you are definitely saying I am ready to get it on.
So, to help you navigate through all the choices, here are a few suggestions:
If you are looking for a bit more structure, or want to have a more burlesque look, then corsets or bustiers are the way to go. For the sexiest look, make sure the get one with garter attachments to go down to your hosiery. Corsets are great for making you waist look small and your bust look BIG.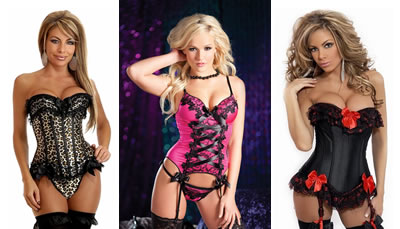 If you just want to spice up a regular bra and panties… add a garter belt and stockings. These add flair and some extra excitement. If you want to go without the garter belt, just pick up a pair of our stay-up thigh hi hosiery. They have silicone added to the tops of the stocking to help them stay up on their own.
If classy is what you are looking for… go with a classic. Look for a babydoll, chemise, or teddy that has nicer lace or luxurious fabrics like satin or silk. If your man is very sensual, you might look for lingerie that is softer to the touch, or adds texture with lace.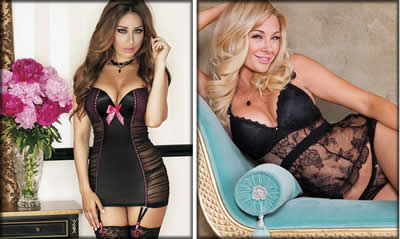 If you think you are going to be in a hurry or just don't want the lingerie to end up on the floor, then a crotchless, and or boob-less babydoll, teddy, or underwear will set the mood and keep it going. These are also great for ladies who are a bit self conscience about a body part. For example with a crotchless teddy, your tummy can stay covered and still allow easy access to all the fun bits.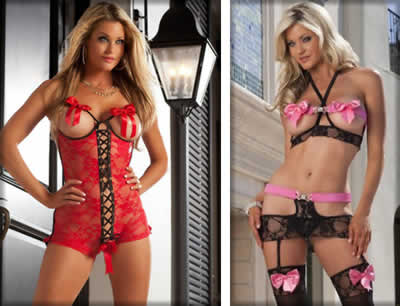 There are so many great lingerie looks to choose from, and we are here to help. Stop by After Midnight Lingerie & Video and let one our romance experts help you find just the right outfit that will work great with your body, and achieve your romantic goals.